Bowling time!

So Friday night we piled into the cars and headed for the bowling alley. They tried to rip us off and charge us more than they agreed but fear not! Dinell set them straight! The guy behind the counter with bug eyes was giving me the creeps so I grabbed my oh so stylish shoes and ran to the lanes. Keather stirred up some giggles by stealing a 6 pound or so ball from a 7 year old because she had "small little fingers." I joined a lane with Blaise, Dinell, and Marina. Looking ourselves over, we realized we had a dream team and named ourselves the Big Hot Sexy Tits. (I wish I could be called Tits, but my small B cup can't complete with the big girls, boo hoo hoo.) Anyways, I started to bowl and immediatley was asked if I was in a league by Jess M. What? No! I soon realized by looking around that if you could keep the ball out of the gutter you were considered a pro. Lane 4 didn't seem to want to cooperate. When Diana asked for help, she was told by the alley guy that it was her fault for bowling too slow. Was he serious? After stirring up a top score of 103, I knew our team would never be able to complete in the olympics, but hey, we looked damn good on the floor. Even the guys across the alley couldn't stop smudging their faces against the glass to get a good look at Blaise bopping up and down. Or maybe they were looking at us cause we were the only white girls in the joint, as brought to our attention by the ghetto freaks in the bar. The second game was even more intense, Big Tits teamed up against Hot Sex for a grueling match. I tried to replicate the techniques of Blaise and Dinell, but unfortuanly I wasn't talented enough and ended falling on the waxy lane. Nasty! The game ended with scores so high, added up they would still be lower than those of my boyfriend's worst game, but hey, we had a blast and that's all that mattered!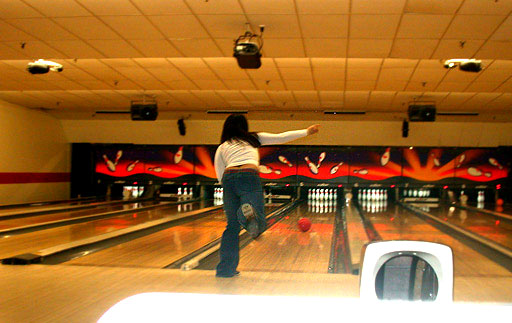 The Blaise technique I just couldn't master.
Doesn't Molly look like the Devil with those red eyes and that wicked smile!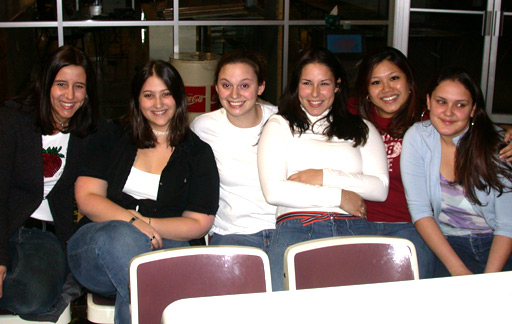 Look at these beauties!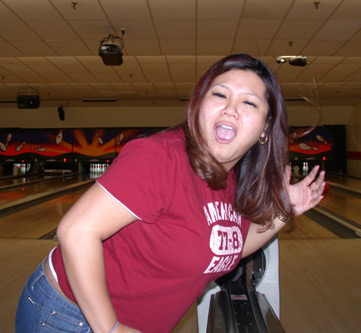 This is Sexy herself trying out for a Finesse commercial.
Would you buy the shampoo?
Hehe, we still love you Dinell.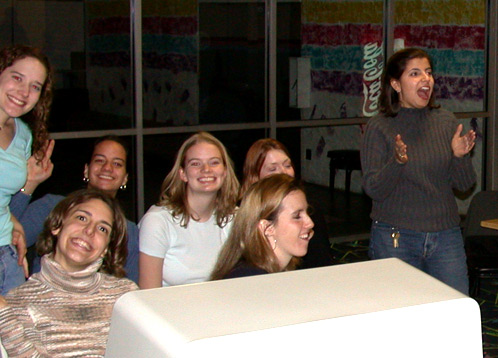 The lovely cheerleading section.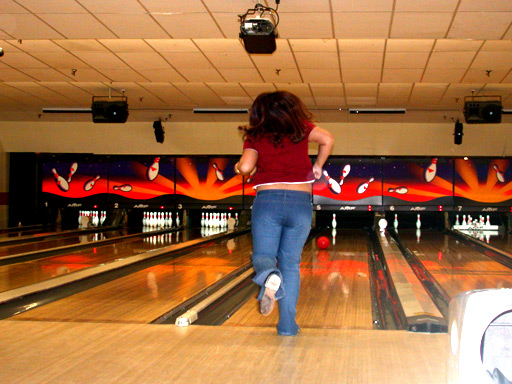 If you're in distress, try Dinell's technique of freaking out and the ball will surely hit the pin.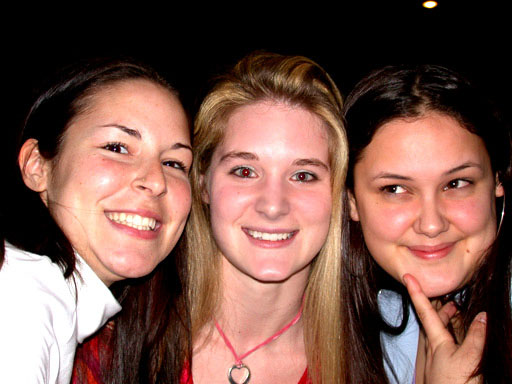 The dream team minus Sexy- Tits, Hot, and Big. I wonder what Marina's thinking about?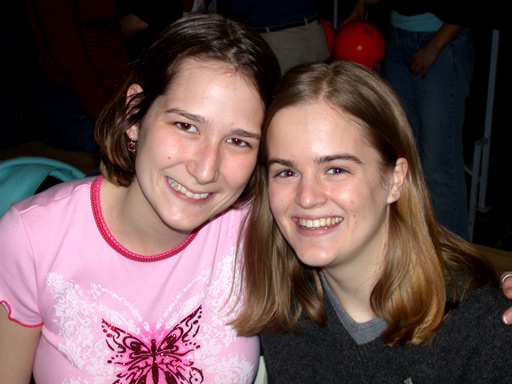 Brittany and Amy looking oh so cute.