Dec 2005: This site is no longer updated, but is kept as a scrapbook of my wonderful experiences with my Alpha Phi sisters. The websites I created to honor my sorority led to my career as a Web Designer. Please visit my company at www.deeliciouswebdesign.com if you are interested in my work.
I will still continue to add members to the Alpha Phi Webring if you have a website you are willing to share with fellow sisters. Thank you for sharing your sweet comments on the TagBoard and don't forget to cherish every moment with your sisters, because the memories will stay with you forever!
-Deanna
Welcome to my little corner of the web where I share the events and photos of the sorority I love.

My Alpha Phi of the Week
Liz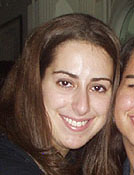 Because she says she checks my website every day which makes her #1 in my book! And because she's such a great sister to share good times with. :)
***
Ladies send me your D-Day photos! Check out the updates page to see what is new. Also check out the little tagboard on the right. Leave me and everyone a little message to show your appreciation for all my hard work! :) Thanks and enjoy!
BTW: If you are interested in coming to Phi Fest 2003 at my house, write me an email with your summer number ASAP!