Charleen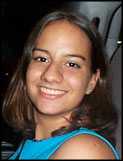 Full Name: Charleen Enid Merced Agosto
Hometown: Caguas, Puerto Rico
Birthday: October 11, 1983
Favorite Food: Pasta and Arroz con Salchichas y plátanitos.(Rice with pigeon peas and fried plantains)
Hobbies: Watching movies, reading, writing, surfing, playing tennis, rollerblading, talking on the phone, and going to the mall.
Ideal Man: Tall, 5'10 or taller and slender built with great abs, broad shoulders and back and kind of tan. He has to be a great kisser, romantic, thoughtful, and *not lacking
anything* ;-) This man does not exist :-(
If she won a million dollars she would: Invest half of it so I would always have money and with the other half go to the spa for an entire week and travel a lot on a cruise.
Favorite Memory: A summer after 8th grade and my sister and I spent a lot of time with our mom just going places and shopping a lot, having a good time.
Things She Dislikes: Fighting, distrust, chauvinism, racism, beer, Beth (from CAS class), and the psycho boy.
Most Embarassing Moment: In 9th grade, performing a dance I didn't know in front of the entire school.
Favorite Song: I will always love you by Whitney Houston because it is the best song ever and
I can realte to it.
Secret Talent: Being able to talk on a cell phone and keep a conversation with someone in the room at the same time, studying-watching TV-surfing the web-im'ing people-and listening to music at the same time, and I write poetry.
What does she envision doing in 10 years?: Either being a doctor, married and with children
or going into something in the humanities, living in a big city, married and with children.
Favorite Color: Red
Favorite Movie: The Bodyguard and The Little Mermaid
Favorite TV Show: X-files
Favorite Book: Harry Potter Series, Melody, Cien Años de Soledad
Something people don't know about her: I'm an X-Files Freak and a hard core perfectionist.

Favorite thing about Alpha Phi?: I love the girls!!! They are great!